Gilmanton
Minerals and Mining in Gilmanton, New Hampshire, Candace Daigle, 1996


Surface Water and Wetlands Map
Surficial Geologic Map Of The Gilmanton IronWorks Quadrangle
The Geology of New Hampshire Part III - Minerals and Mines

, TR Meyers and Glenn Stewart Third Printing 1964


The Geology of the Gilmanton Quadrangle New Hampshire

Milton Heald 1955
Volunteer Lake Assessment Program Individual Lake Reports-Shellcamp Pond-2020
Volunteer Lake Assessment Program Individual Lake Reports-Sawyer Lake-2020
See Research Page and Maps Page for additional Information
---
Agriculture
Cogswell Homestead
Cogswell Road #5, Tax Lot 415-017-000-000
New Hampshire Agriculture with Personal and Farm Sketches 1897
Gales Mill
1853 Grist Mill
Price Farm

Shannon Road #18, Tax LOt 415-033-000-000
Granite State Dairy 2014
Sanborn/Wilson Farm
Upper City Road #125, Tax Lot 426-002-000-000

Gilmanton's historic Bosiak Farm burns during storm
01/27/2015

Baxter, Jean & Bill – Retirees Discover New Careers Growing Grapes
1988
Forst, Elaine – Granite State's Top Dairy Farmer
1988
Gardner, Amy – "Milk is Cool"
1988

Gates, Kenneth - Burros
News undated
NH Farm Homes

1914
New Hampshire Agriculture with Personal and Farm Sketches 1897
Going Back to the Old Farm
---
Community Buildings
Also see Postcards
Academy-Town Offices, 503 Province Road, 127-001-000-000, Pictures, Postcards
Gilmanton Academy Memories
Face Book 2023
Gilmanton residents want town hall entrance unlocked
01/04/2019 Union Leader


Selectmen's Press Release re:Locked Doors

08/06/2018
Time to unlock the front door to Gilmanton's town offices 06/06/2018 Laconia Daily Sun
Gilmanton selectmen: Town hall closed by overwhelming response to political sign controversy

03/09/2018 Union Leader


Why the security concern at Gilmanton Academy building? 03/02/2018 Laconia Daily Sun
Marble-faced clock is Gilmanton treasure
01/22/2018 Union Leader
Painters freshen up Gilmanton town office building
Concord Monitor 9/20/2017
2015 Damages from burst pipe
WMUR Video
WMUR Articles

YouTube
Town Office/Building Use Study 1987
Gilmanton Academy was incorporated in 1794, "...one of the three academies first founded in the state...". In 1808 the original building burned; the second building also burned, in 1894, and was replaced with the current building, which now houses the town offices. Gilmanton Theological Seminary was provided for by the terms of the original charter of Gilmanton Academy. Rev. Heman Rood, from New Milford, Connecticut, was the first professor in 1835. By 1841 a large, three-story brick building designed by Ammi B. Young was completed for the seminary's use. Wikipedia More...
The Fire Between the Fires A brief history of Gilmanton, New Hampshire, Academy
-
Ehrensperger, Harold, Author -
1973 - a history of the life and devasting fires of the Gilmanton Academy, 17 pages
Gilmanton Theological Seminary

The NH Repository, Rev William Cogswell, July, 1846
---
Corners Library, 503 Province Road, 127-001-000-000
Library Book Chats
Feb, 2023
Email your book, CD or DVD request to Gilmanton Library
02/17/2021 Laconia Daily Sun
Gilmanton Corner Library to start indoor book sale
07/18/2020 Laconia Daily Sun
Corner Library is a Gilmanton "Gem" hiding in plain sight
03/29/2019 Laconia Daily Sun
Library - Interior Renovations-2016
100 Years
Concord Monitor 07/04/2012
---
Corners Post Offices
Ponder Fate of Gilmanton's Former Post Office
1970, 8 Cat Alley, Tax Lot 127-048
---
Kelley's Corner School, 12 Sanborn Hill Road, 426-034-000-000
The Kelley's Corner School, was listed on the New Hampshire State Register of Historic Places on April 28, 2008. It is the last of the many one-room schoolhouses in Gilmanton to remain in public ownership. Authorized in 1778, this one-room school house served the community as a school for more than 100 years. It is still used as a community building, holding an important place in the social life of the community, and is a sole survivor of this building type in the town of Gilmanton.The Gilmanton School Board closed the Kelley's Corner School at the end of the 1939-1940 school year, as well as three other one-room schools that were still in use at that time; the Smith Meeting House School, the Gale School, and the Potter School. For the 1940-1941 school year, Gilmanton's elementary schools were consolidated into two facilities, one at the Corners in the Academy building, and one at the Iron Works.
Kelley Corner School House receives 2020 Moose Plate Grant
01/07/2021 Laconia Daily Sun
Renewed push to preserve a one-room schoolhouse in Gilmanton
12/28/2020 Concord Monitor
Interior

06/15/20 Facebook
Finding a New Life for the Kelley Corner School
-
05/15/2019 NH Magazine
Kelley Corner School Restoration Project - April 2017-Oc
tober 2018
Dinner supports school repairs
09/29/2016 Concord Monitor
Gilmanton receives letter and photos from 1938-40 teacher at one-room Kelley's Corner School
12/22/2009 Daily Sun
Barn formerly abutting Kelley Corner School House
Picture shows back of school house where two windows were removed in 1930 when the State mandated schools install larger windows to let in light.
---
Odd Fellows Hall/Old Town Hall, 1800 NH Rt 140, 115-042-000-000, Pictures
The Odd Fellows Hall/Old Town Hall
was listed on the
New Hampshire State Register of Historic Places
on
January 24, 2011.
Constructed in 1902-03 for Highland Lodge #33, this all-wood building with a Second Empire tower had space on the second floor for the local Grange. It is one of only two buildings to survive the 1915 fire that gutted the village, and has been in continuous use as a town gathering space and voting station for more than 100 years.

LCHIP awards $75K grant to Old Town Hall

Union Leader 12/15/2021


Please support restoration work on Gilmanton's Old Town Hall
Laconia Daily Sun 03/05/2020
Condition Assessment Report of December 10, 2019
Condition Assessment & Recommendations of November 6, 2019
Report of December 10, 2018
Benefit Concert held at Old Town Hall
05/27/2017
Report of October 4, 2010
GIW Town Hall Looking Good
1993
Town Office/Building Use Study 1987
---
Town Poor Farms
From its earliest settlements New Hampshire has struggled with issues surrounding the treatment of its poor. The early Northeastern colonies followed the lead of England's 1601 Poor Law, which imposed compulsory taxes for maintenance of the poor but made no distinction between the "vagrant, vicious poor" and the helpless, and honest poor. This confusion persisted for generations and led directly to establishment in most of the state's towns of almshouses, poor farms, and, later, county institutions which would collectively come to form a dark chapter in New Hampshire history. Poor Houses and Town Farms: The Hard Row for Paupers-Steve Taylor
What if the poor were sent to work on town-owned farms? They were and it wasn't pretty
07/23/2016 Concord Monitor
Unity Almshouse
Sara Poisson 2009
Silent Voices From the Past
Sara Poisson 2010
Gilmanton's Poor Farms
First Gilmanton Poor Farm: Until 1830 Gilmanton "auctioned out" paupers. In 1830 a farm on Meetinghouse Road (Tax Lot 419-028-000-000)
was purchased from Lewis W. Gilman (grandson of Jotham Gilman). Paupers were sent to the farm to work as able. In 1845 Daniel Ayers was the owner and appointed "overseer". On October 22, 1847, the dwelling at the town farm burned.

Second Gilmanton Town Farm: A special town meeting was held. It was voted to sell the Ayers property and buy the Moses Stevens farm on Town Farm Road ( Tax Lot 420-073-000-000) for $3,000. In 1870 this second town farm was sold as it was too expensive to maintain for the small number of paupers. They were then boarded out.
Plan & Tax Map
Town Histories re: Poor Farms
Town Report Excerpts
Laconia State School: Once Gilmanton closed its Poor Farm, some indigent residents were also placed at the Laconia State School. Residents were also placed there by families unable to provide care for them.
State School panel wants historic and market studies
Laconia Daily Sun 12/20/2018
A year in, more questions than answers for State School land
Laconia Daily Sun 12/07/2018
Retirement community no longer in plan for State School land
Laconia Daily Sun 12/04/2018
"Their" land will not be taken for private development
Laconia Daily Sun 11/28/2018
Unmarked graves a possibility at State School site
Laconia Daily Sun 11/24/2018
Closing the Doors: Laconia State School documentary shines light on the negative impact of mental institutions
Concord Monitor 07/29/2012
Honoring "forgotten" dead of Laconia School
Union Leader 06/10/2012
Laconia State School: documenting a history some would rather forget
Daily Sun 04/28/2010
Laconia State School Daily Sun 04/30/2007
Lost in Laconia - The History of the Laconia State School

Community Support Network Inc
Laconia State School - Facebook page
---
Community Places
For Churches see Religious page
Crystal Lake (aka Lougee Pond)
Ice Disk
WMUR YouTube
02/2019
Lake Drawdown
09/28/2018 Laconia Daily Sun
---
Gilmanton Corners
Gilmanton Corners -
Earlier
and
Later
---
Gilmanton Iron Works
Isaiah S Robinson Fund
---
Frisky Hill
Frisky Hill is on
Province
Road, and runs from Loon Pond Road to Smith Meetinghouse Road. It is well known for its beautiful view over Loon Pond. It was previously the site of a small cemetery. When the State widened the road, the occupants of the cemetery were relocated to the Smith Meetinghouse Cemetery.
Scenic Parking Proposal 2022
The Fight For Frisky Hill
NPR 8/17/2013
Priceless Views
Concord Monitor 9/16/2012
---
GIW Blacksmith Shop
GIW Blacksmith Shop
One day prior (1930's?) to being burned by the Town Courtesy/Comment John Carter
GIW 1780 Blacksmith Shop, Oldest Blacksmith Shop in New England
1923 Leslie Jones Photo


GIW 1780 Blacksmith Shop

Postcard
---
Manning Lake (aka Youngs Pond, Guinea Pond)
---
Mary Butler Homestead
The site of the Mary Butler Homestead is located on the Class VI portion of Mary Butler Lane in Gilmanton Corners. Mary Butler Eastman gained fame as a result of her ride from her wilderness home in Gilmanton to Cambridge to learn the fate of her husband after the Battle of Bunker Hill. Much has been reported of the feat and the strength and devotion evidenced also was celebrated in poem and illustration. Mary Butler Eastman and her husband, Lt. Ebenezer Eastman, are buried in Copp Cemetery on Province Road. The site is under the care of the Cemetery Trustees.
History
---
Meadow Pond
The portion today called Meadow Pond was originally a wet meadow that was annually hayed until the dam was constructed and that area was flooded.
Anecdote
Floating Island-2018
---
National Register of Historic Places
Listed Properties
Centre Congregational Church
First Baptist Church of Gilmanton
Gilmanton Academy
Gilmanton Iron Works Library
Smith Meeting House
---
New Hampshire Division of Historical Resources
NH Historical Highway Markers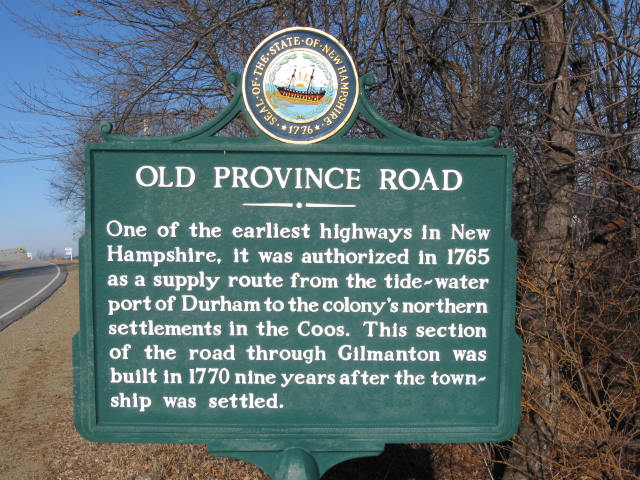 Old Province Road

NH Division of Historical Resources
NH Register of Historic Places
Kelley's Corner School House
Odd Fellows Hall/Old Town Hall
---
Round Pond
---
Sawyer Lake (aka Factory Reservoir)
Sawyer Lake District
Sawyer Lake Composite Plan
---
Shellcamp
Shellcamp Pond was thus named by certain hunters, who, in the winter of 1749 and 1750, ventured into this wilderness with their guns, traps, and fishing apparatus, and encamped for the winter on the Western shore of this Pond. They found a large, hollow, pine tree fallen in a favorable position for a shelter, and in this shell of a tree, they made their camp during their stay. It was ever after called by them Shellcamp Pond.
The History of Gilmanton 1845
2019 Lake Drawdown 01/05/2019 Laconia Daily Sun


Aerial View

Bruce Atkinson 08/17/2020
Shellcamp Dam reconstruction
1977
---
Town Pound - 413-019-000-000 Pictures
The Cemetery Trustees manage the Town Pound site. There is no formal historic designation of the Pound.
Local lore tells us that the men who moved some of the extremely large granite and boulders to the site by hand with oxen and horses chiseled their initials into places on the walls. Certainly, several such initials can still be found today.
The Town regularly elected a Keeper of the Pound and the last known person to hold that position was Earl Ellsworth.

2015 - The underlying property was subdivided, creating a separate lot that encompasses the Town Pound which was transferred to the Town of Gilmanton. The approved plan also included a 50' protective easement around the Town Pound.
Tax Lot 413-019-000-000 Recorded Plan
Restrictive Deed
Gilmanton Selectmen accept deed to town pound
Citizen 03/12/2016
Gilmanton officials say word got around on plan for Town Pound

Citizen 10/22/201

5
Gilmanton board approves plans to build around the Town Pound Citizen 10/10/2015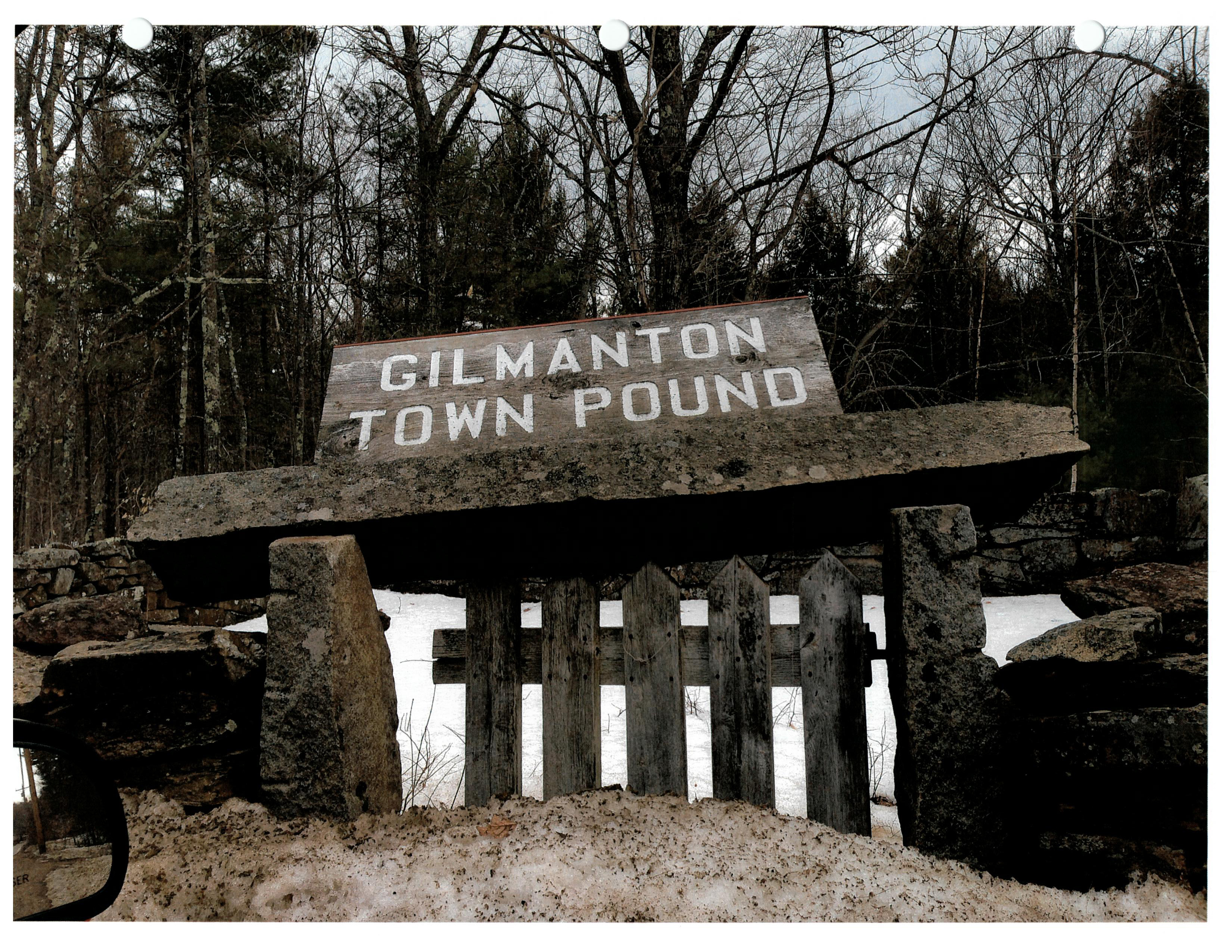 2014 - During the winter of 2014, a large granite stone supporting the entry-way capstone was partially dislodged by NH DOT plowing activities. This was speedily repaired by DOT in April, 2015.



1994 - Winchester Used to Safeguard Property

Suncook Sun 12/14/1994



1807 - the Town authorized the Selectmen to rebuild the Pound and to build it of stone. The location was changed and the new Pound was placed a little Southward of William Peaslee's, where it now stands. News

1801 - the Town adopted a By-law restricting cattle, sheep and swine from being at-large, incommoding travelers and teamsters by destroying hay and provender given to the horses and cattle of such travelers and teamsters.

1783 - the Town first authorized the Selectmen to build "a pound" on the school lot, near the Congregational Meeting House. Origin of the Gilmanton Pound, Richard Arms as excepts from the Gilmanton History

Town Pounds of New Hampshire

Nashua Telegraph 07/28/1998


New Hampshire's Town Pounds: Not Gone But Often Forgotten

Union Leader


Town Pounds of New England

Atlas of New England 04/21/2012
---
Valley Shores Family Club
Valley Shores Family Club Section II
---
Conserved Properties & Public Trails
Individual Sites
Cogswell Mountain Conservation Area
Map
---
Durrell Farm Conservation Area
Mitchell Conservation - 2023_0313
---
Tom Howe Barn & Conservation Area - 245 Meeting House Road
Named to NH State Register of Historic Places, Jul/2022
NH State Register of Historic Places Application, Feb/2022
Property Ownership, Deeds, Map
---
Charles Kelley Memorial Forest - Kelley Corners, Province Road at Route 129

Charles Kelley Memorial Forest
---
Paul & Ella Stroud Family Forest - Shellcamp Road
Map
Land rich in history tapped for conservation in Gilmanton
12/17/2007 Laconia Citizen
---
Thompson Town Forest

Map
---
George Twigg III
- Frisky Hill & Loon Pond Road
Priceless Views
Concord Monitor 9/16/2012
---
Joe Urner Trail at Meetinghouse Pond - 245 Meeting House Road
Map - 07/2022
Map - 02/2022
---
William Webster Memorial Forest - Rte 129, Rollins Pond

Land rich in history tapped for conservation in Gilmanton
12/17/2007 Laconia Citizen
---
Wilson/Sapiro - Meadow Pond, Loon Pond & Stockwell Hill Roads, 164 acres, Five Rivers Conservation Trust
5 Rivers Conservation Trust 09/09/2019
Concord Monitor 01/01/2019
Laconia Daily Sun 12/21/2018
Laconia Daily Sun 03/02/2018
Laconia Daily Sun 02/20/2018
---
Other Properties of Note
Cat Alley #8, Tax Lot 127-048-000-000 Former Post Office

Ponder Fate of Gilmanton's Former Post Office
1970
---
Elm Street, #5, Tax Lot 115-032-000-000 IW Village Store
The Village Store, Still with Pumps!
Pic 1
Virginia Jahnle Collection
---
Manning Lake Road #159, Tax Lot 402-004-000-000 Boy Scouts of America
Gilmanton Boy Scout Camp Seeks to Expand
1999
---
Meeting House Road #52, Tax Lot 419-040-000-000 Bean/Forten/McIntyre House
---
NH Rt 140, #452, Tax Lot 128-014-000-000
---
Old Town Road #3, Tax Lot 115-006-000-000, Websters Store
---
Province Road #493, Tax Lot 127-057-000-000, The Prescott House
---
Province Road #506, Tax Lot 127-049-000-000 The Tavern, Pub
The Tavern 1970
-
Collins, John J, Author - I
ncludes the History and Description with floorplan of this 1793 Tavern House and Store, 20 pages
---
Province Road #513, Tax Lot 127-002-000-000 The "original" Corner Store, Pictures
A Special Home-The Old Corner Store in Gilmanton, NH
0
6/27/2018 Roy Sanborn
Great American Country Video
The Original Gilmanton Corner Store 05/09/2017 Roy Sanborn

Gilmanton Home Gets Attention from HGTV-513Provine Rd
2017
---
Province Road #518, Tax Lot 127-037-000-000 Corner Store/Cafe
Pictures 2015, 2016, 2019
---
Province Road #525, Tax Lot 127-008-000-000 - The Brick House
New owners look to restore Gilmanton's Brick House
Time Present and Time Past
10/17/2018 Daily Sun
Photos
---
Province Road #549, Tax Lot 128-018-000-000 - The Wight House
The Wight House

7/26/
2018 Roy Sanborn
---
Province Road #1246, Tax Lot 419-065-000-000 - Farley Garrison House

Larissa Mulkern
YouTube
HouzzTV
---
Stage Road #207, Tax Lot 418-009-000-000


Fire Destroys auto repair business in Gilmanton barn 5/26/2018 UL
---
Upper City Road #125, Tax Lot 426-002-000-000 Bosiak/Sanborn Farm
Gilmanton's historic Bosiak Farm burns during storm
01/27/2015
---